Working from home today, which of course means sleeping late, working in my pajamas, and lots and lots of mindless eating in front of the computer.
Well, for me, not really. Because I've been good these few months. Lots of baby carrots and hummus, raw berries, rice cakes, raw almonds, and lots of water. It's not as bad as it sounds, and since I love vegetables and fruits anyway, eating healthier has pretty much been a cinch. If only I could feel the same way about going to the gym…
Well, since it's me we're talking about here, every once in a while, a girl's bound to fall off the wagon. For me, it's always the weeks between Thanksgiving and New Year's Eve, when all of the yummy foods you've sworn off on throughout the year are fully at your disposal, making your existence just rife with temptation.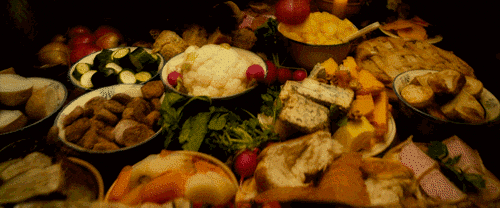 Still, I've been good at making healthier choices…well, with a few no-nos in between for good measure, but still watching portions and such. So, big servings of salad and water accompanying. I mean, mixed greens topped with cherry tomatoes and Tofurkey bacon.  LOVE IT!
So today, I felt good about eating some homemade (gluten-free) baked goods.
Even in the winter, I still keep my freezer stocked with frozen fruit, which is always good for breakfast oatmeal and pre-workout protein smoothies. They're not as good for snacking as they are for baking and cooking, but they're convenient and are even better when making quick breads.
The best thing about this quick bread recipe is that you can modify it to include additional protein. This is my go-to recipe whenever I have a lot of yogurt in the fridge. For a protein-packed breakfast, I like to add in two scoops of gluten-free vanilla flavored protein powder (If you have severe gluten allergies or celiac disease, I wouldn't advise adding any protein powder to your diet!) and I omit the sugar. Great for muffins.
Gluten-Free Blueberry-Vanilla Yogurt Bread
Ingredients
¾ c. GMO-free organic vanilla yogurt
6 TBS. (1/3 cup) GMO-free organic unsalted butter, diced
1 tsp. fine sea salt
2 tsp. baking powder
½ tsp. baking soda
2 cs. brown rice flour
1/4 tsp. xantham gum
1 c. frozen organic blueberries
12 tsp. organic sugar, for a sprinkled topping*
Directions
Preheat oven to 425° F.
Grease and flour a loaf pan and set aside.
In a medium mixing bowl, add rice flour, salt, xantham gum and diced butter. With a pastry cutter or small sharp knife, chop the butter into smaller pieces, about the size of a green pea.
Add baking powder and baking soda, yogurt and blueberries. Fold the ingredients into the flour until well combined.
Pour the batter into the pan. If using muffin liners, fill 3/4 of the way with batter.
Bake for 25-30 minutes, until the a golden brown and fully baked.*
When cooled, sprinkle with sugar.**
*Toothpick/knife test: Place the toothpick/knife in the center of the bread and then remove. If the toothpick/utensil comes out clean, your bread is done.
**For protein muffins: omit sugar and add two (2) scoops of protein powder
© 2017 • CoffeeCupcakesKafka